Got scraps? Banana peels, eggshells, and all the leftover goodies don't love going into the garbage. Regular compost containers are a step in the right direction, but instead of changing them out, why not have a zero waste lifestyle and use indoor compost bins that turn your scraps into soil for plants, gardens, and more!
*As an Amazon Associate, I earn from qualifying purchases, which helps run this site for you. I am also an affiliate of Etsy (yay small businesses!).
Learn how composting works, why it's beneficial to the environment (what it reduces), and order your zero waste indoor compost bin today (or simply get in the know)!
What Is Composting?
Piling up leftovers into a bin, right? Well, that's the action…composting is the process of breaking down organic matter.
For example, in the house I grew up in, we had a giant compost pile in the backyard. We would first use the indoor compost bins in the kitchen to collect food scraps such as eggshells, stale bread, leftover pancakes from when my dad would make too many (every time), and so on.
Once those kitchen bins would fill up, we take them to the pile outside and dump them on top. Over time, the compost pile would absorb the scraps which would decay naturally into a type of fertilizer. The cool part was that I saw baby sprouts grow from the pile! We would use this compost to enrich the vegetable garden with new soil.
What Can Be Composted?
I mentioned banana peels and eggshells, but just about anything that comes from the ground can be composted. Cheesy, but it's the circle of life – what comes from the ground can be put back in and vice versa. Here is a quick list of some items in our daily lives that can be composted as reported on the EPA website:
coffee grounds and eco-friendly filters
stale bread
pasta
nutshells and eggshells
herbs and spices
avocado pits
pumpkins
anything that says "compostable"
Do NOT compost meat, fish, dairy, oils, animal waste, or insect-infested plants (click for beginner plants that are hard to kill). They will only harm the composting process and you won't be able to reuse the fertilizer.
How Does It Affect the Environment?
Composting can help reduce greenhouse gases which assist in climate change. How? When your food scraps make their way to the trash instead of the compost bin, it ends up in landfills. By now, we should know that landfills emit gasses like methane that get trapped in the troposphere. This leads to global warming.
The EPA (United States Environmental Protection Agency) mentions the benefits of composting, including cost savings, water retention in soil, and aid in reforestation.
Using indoor compost bins is one step closer to reducing one of the most pressing issues for our generation and generations to come.
Benefits of Scraps to Soil
If you live in an apartment, you don't have to take out the compost bin every few days.
Almost no smell, mess, or sticky situations.
You are being mindful of waste by using a possible zero waste product. Yay!
Help reduce your carbon footprint.
Use the soil for indoor plants, outdoor gardens, or gift some to a friend (in a propagation pot or DIY decorative decor).
Want to get involved in the sustainable community and share the love?
Top 10 Indoor Compost Bins
These are highly reviewed indoor composting systems that turn your scraps into soil. Each indoor compost bin has a brief description with honest reviews. I don't want to trick anyone into saying these top 10 composters each qualify as the best possible solution for your home, because it depends on what design and type you're looking for. I CAN say they all function very well as indoor compost bins and will satisfy your waste buildup as well as the environmental impact.
Types
Automatic – a system where you press a button and within a few hours, the scraps will turn themselves into soil.
Vermicompost – the use of earthworms in your compost (described below under Biovessel).
Anaerobic – the "old-fashioned" method where over longer periods of time, your scraps will turn into soil naturally.
Automatic
1. Lomi
You might appreciate a video review of this electric kitchen composter. The Lomi came out in January 2022 and people couldn't wait to try it (it's on my list!). Right now, over 70k units have sold and the reviews are winners.
Keep in mind it's pricey and new(er) so if you have to save up for it, you're welcome to use a cheaper compost bin in the meantime (see the stainless steel bin below for only $29).
The Lomi cuts down your carbon footprint, turns a lot of scraps into soil with the push of a button, and you can even plop their Pela phone cases into the Lomi once it's used up.
2. Vitamix
The Vitamix Food Cycler FC-50 has a 2L capacity and functions really well. After about 4 hours, your food waste will be turned into soil, and one review raved about how well the soil worked as a fertilizer for plants and gardens.
Vermicompost
3. Biovessel
The most attractive kitchen compost system by far, the Biovessel is the aesthetic version of outdoor compost taken inside. It sounds odd at first, but you toss food waste into an open compartment on top and then throw a couple of earthworms inside.
Earthworms?! Yes, real wiggly winding worms in your waste. You see, earthworms are responsible for breaking down dead, organic matter and mixing soil layers. Think of them as the mixing spoon to your cake batter; without the spoon, the mixture wouldn't mix and the cake wouldn't bake properly.
And don't worry, the worms like eating your food scraps so as long as the top compartments are fully closed, you won't have them crawling around. You can use the soil they helped break down and plant a flower right in the compost system! How cool! But also, make sure you're okay with this process, as it isn't for everyone.
4. Hungry Bin
The worms will be hungry going through this bin, that's for sure. This compost system is highly rated as one of the better options for worm castings. It can also be used indoors or outdoors and can process up to 4.4 lbs (2 kgs) of waste PER DAY. Needless to say, this is a hefty option so keep the size in mind for your space.
An interesting part of the Hungry Bin is that it collects worm tea at the bottom. Please do not drink this! It's used as a plant/garden fertilizer. For the plant parents, worm tea is an amazing tool for adding nitrogen to your soil.
5. Essential Living
Sturdy, simple, and with year-round indoor use, the Essential Living composter is Amazon's choice for vermicomposting. I would say it's good instead of great because it's constructed with BPA-free plastic which is better than BPA plastic but not as helpful as plastic-free. This is the only downside, otherwise, it's got 4.6 stars and comes in plum, green, grey, or black.
6. Urbalive
The description says it won the award for the Red Dot Design and I can see why. This bin is stylish, simple, and comes in lime green, ivory, or gray. There are only 7 reviews on Amazon but those 7 seem to enjoy the 2 feet tall, 2-layered bin!
Anaerobic
7. simplehuman
This is actually a detachable side caddy that sits against the simplehuman garbage bin, but with almost 12k ratings at 4.7 stars, you'll love the benefits this 4-liter compost bin provides. What makes this different than other stainless steel bins is the invisible coating called Agion. It's an EPA-registered antimicrobial agent that hinders the growth of bacteria, mold, mildew, and fungi. Thank goodness for that!
8. Stainless Steel Bin
Prefer simplicity? I know I do. The stainless steel bin is an easy first to guide your compost journey. This is the one I started using at first in my apartment because with double carbon filters, there was almost no odor. It's also dishwasher-safe, hides easily, and wipes clean.
Don't forget your eco-compost bags!
9. BelleMark
Another aesthetically pleasing bin compared to what it contains, the BelleMark bin has a stainless steel container and lid with a wooden outer layer. It's odor-free, pest-free, and blends in nicely in the kitchen. The stainless steel is also dishwasher-safe, and the customers' reviews plateau at "happy with purchase."
10. Bokashi Starter Kit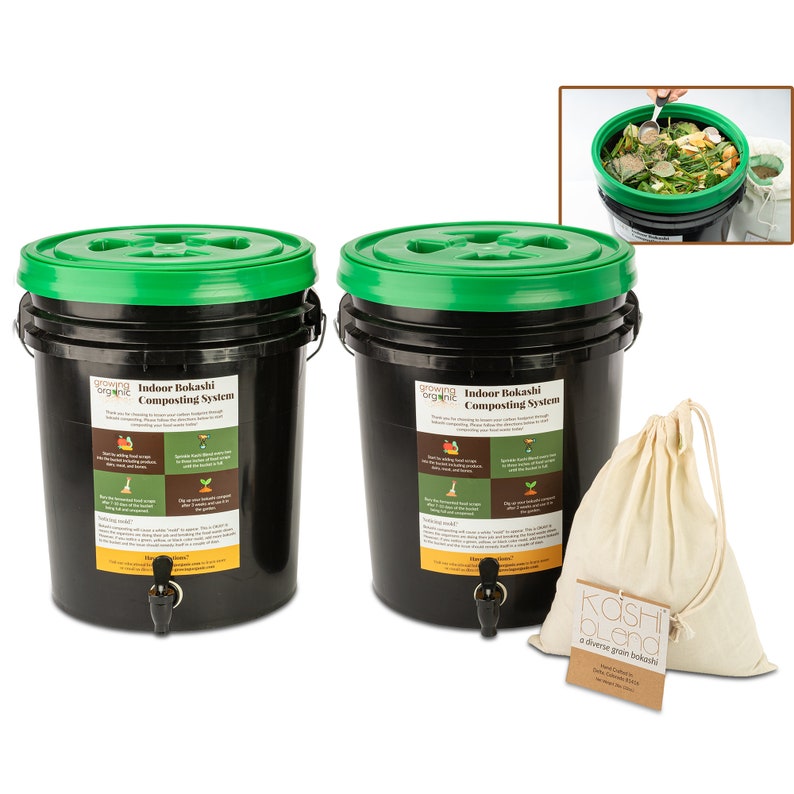 Want a full set? Me too, that seems easy (which is what most customers are saying)! The Bokashi Starter Kit comes with:
2 5-gallon buckets with spouts
airtight lids
your choice of either 2 lb or 5 lb bag of Kashi blend
composting instructions
…
There you have it, 10 of the top indoor compost bins you can use in your home. With all this extra enriched soil, you'll be loving the health benefits of houseplants in your zero waste kitchen. Thank you for saving the environment by reducing landfills! 🙂